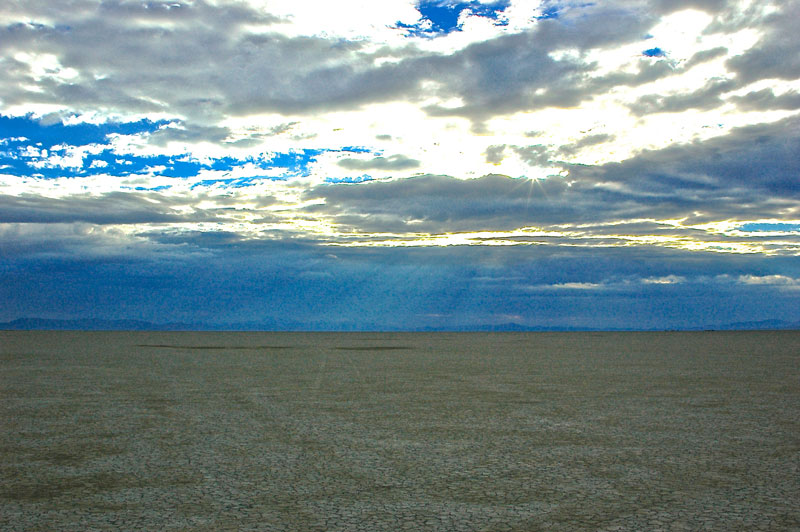 When you ask most people what they did on the 4th of July, they tell you about terrific family picnics and having fun watching an organized fireworks display.
Not me and my Sweetie. We are two of about a thousand self-reliant adventurers who like to battle the elements of Nevada's Black Rock Desert which is harsh, beautiful and surreal. This is extreme camping and certainly not for everyone.
"Some people come here as though it was a Sunday picnic in the park," says Gerlach's colorful and most recognized citizen Bruno Selmic. "If you don't respect and prepare for the elements though, the Black Rock will bite you in the butt."
This year was no exception. It was hot, but that wasn't the focus. Thunder, lighting and battling ferocious, high velocity winds, like in a hurricane. We hung on through the storm and then after it passed us, we were amazed as it literally made a U-turn and came back and hit us just as hard again. Fortunately, because there was moisture in the air and lots of previous rains, the playa was like cement and therefore we experienced very little dust.
100 Bungee Cords
I never knew how fabulous Bungee Cords were until I started spending time on the playa. Everything must be tied down and/or attached to something solid. The goal is to create enough flexibility that allows your entire campsite to bend in the wind without breaking or watching your pillow fly across the playa (yes, one passed me in the storm). Any shade structure must allow the wind to move up and through it, otherwise we have seen the tattered remnants piled high in the back of people's trucks on our way out. You have to respect the environment and more importantly, leave no trace.
Illusions
What absolutely fascinates me the most is that you're looking out at a vast empty space and everything seems to float in mid-air, then all of sudden out of nowhere comes a guy on a Land Sail, an art car full of people, kids speeding by on dirt bikes, a blue cup, 2 birds flying super low to the ground or a grasshopper. Everything is unexpected. What you can expect however is that the mountains are breathtaking, the lakebed (playa) fascinating, the sky so big and constantly changing and of course, the night sky where the stars seem so close you can almost touch them.